Helsinki Airport
Consult this website for more information about the different Helsinki Duty Free Pick up Points. The Reserve & Collect service, which is available in all our tax free stores, allows travelers who are passing through Finland's capital to buy products at a reduced price through the Duty Free stores' website. Afterward, all you have to do it collect your order at one of the Pick up Points in Helsinki Select and reserve your favorite tax free cosmetics, food, and liquors through our website and pay for your order once you're in our store at the airport.
The Pick up Point at the Helsinki airport is inside Terminal 2 Schengen. You will find one of our stores at the airport just after passing T2S security control. This store acts as the Pick up Point for those who have taken advantage of the Reserve & Collect service. The opening hours of the Helsinki Duty Free store in T2S range from 5:00 a.m. to 11:00 p.m. every day of the week, except for Saturdays when the store closes at 9:00 p.m.
The Pick up Point in the Helsinki Duty Free store in T2S is inside of the store, and it's labeled with the name of the service: "Reserve & Collect Point". The collection point is between the beauty section and the liquors. Don't wait any longer and make the most of your trip from the Helsinki airport. Buy the best tax free products and save time and money thanks to the opportunity to reserve your favorite products through our website. Your order will be waiting for you at the Helsinki Pick up Point up to two hours before the departure of your flight. Buy your tax free products at the Duty Free stores at Helsinki airport today!
PP

Pick up Points (1)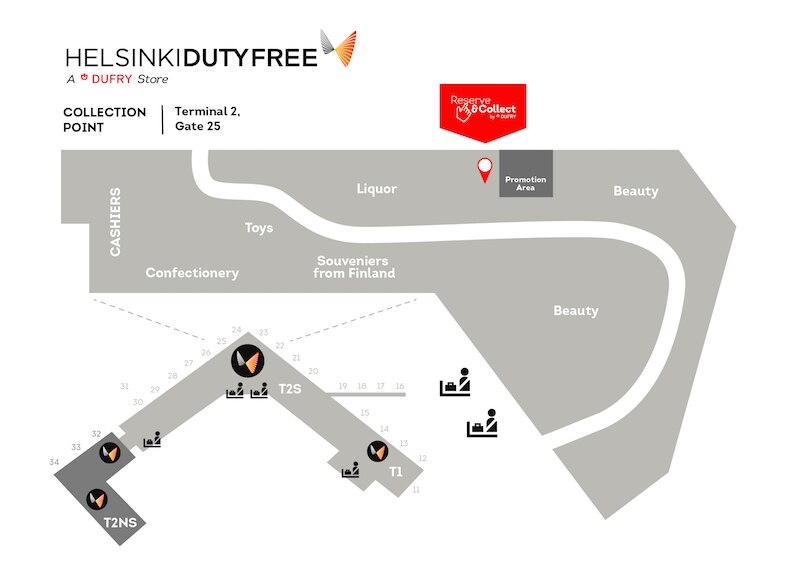 Terminal 2, Gate 25
---
Your goods will be ready for pick-up 2 hours before the departure of the flight.
You can also do additional shopping while in store.
---
Any questions? Find your answers in: How does the service work? and FAQs.
---